Apricon becomes Symetri Collaboration
Together we become stronger and can provide you with better service as a customer and user. Therefore, we now form a joint organization with our Norwegian colleagues in Symetri Collaboration AS. Apricon AB also changes names to Symetri Collaboration AB.
With the  products Apricon Visual Question Board and INTERAXO, you can simplify your work and make your projects even more efficient.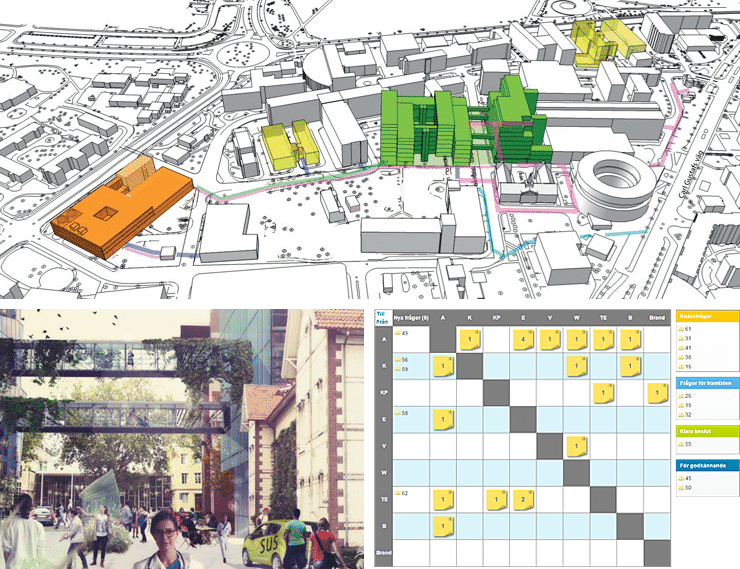 Region Skåne invests six billion in the hospital area in Malmö. The project uses Apricon with Linked projects and Visual Q&A.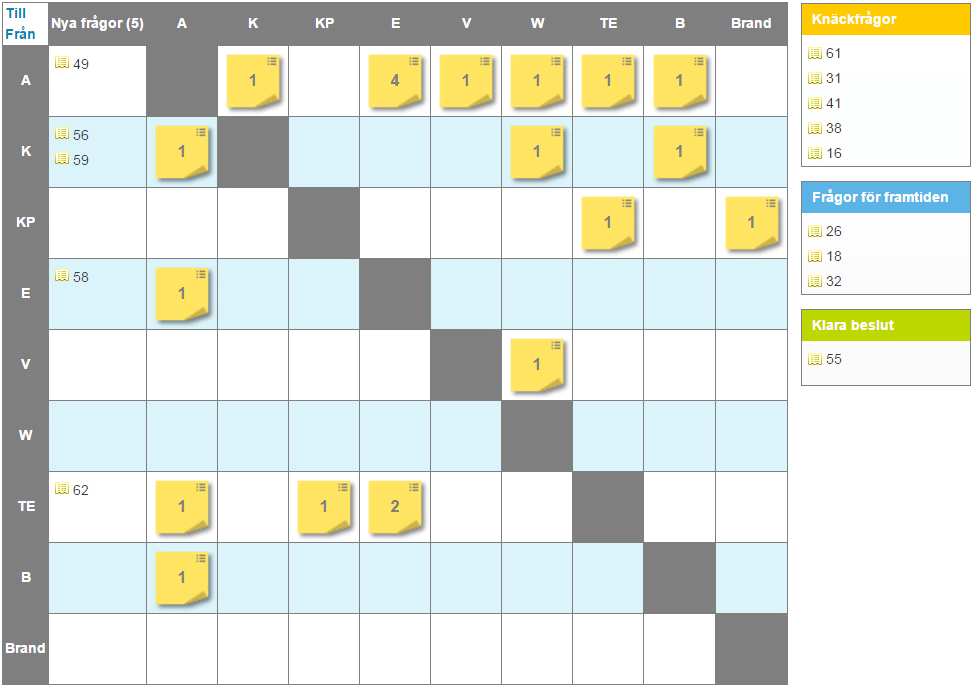 The collaboration has resulted in an effective way to handle Q&A during meetings. Drag and drop makes it intuitive to work with and everything gets documented.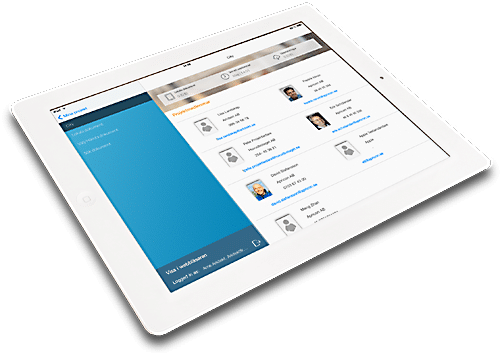 Take your drawings with you when you leave the office. The Apricon App combines the accessibility of "cloud computing" with local storage and allows you to view the documents you need very simply even when you do not have Internet access.
Apricon simplifies project work
Apricon is a Web-based tool for better communication when developing, building and managing buildings and other structures. Apricon draws on over fifteen years experience and thousands of successful construction projects.
The tool makes for greater cooperation between project members which boosts creativity, assures quality and is a genuine time saver.
Project support on your terms
Apricon can grow as you grow. You can start with the basic application and add new features as required as you go along. It is a powerful support tool for every member of the project team.
A project developer does not have the same needs as a project manager, architect, engineering consultant or contractor. Requirements also change when you move from construction to the administration phase.
Apricon offers standard templates and various solution choices, and can be customised to your specific requirements.
Smooth transition
Being able to access data from different phases of a project makes for smoother and more efficient transition from development, implementation and into management.
Project developers can be confident that client requirements are satisfied. Project designers can create the project based on correct data and contractors can work with approved documentation. Then once the project is handed over, the property manager will have the right documents to manage and and maintain facilities and structures.
Unique overview
You will see how the application works from the first click. Everything is simple and intuitive. In fact, you will be up and running from day one of the project and learn as you go.
Apricon has a smart, dynamic document tree that provides a quick and simple overview of documents. Information is always at least one click closer to you than in a conventional folder system.
Saving files
Apricon saves files in a new, quick and easy way. While you name and classify a file, the system saves it. You can save many files at the same time and  download metadata from your own document lists. Uploading occurs in the background and you can continue working without having to wait.
Change and release document management is also included. This means that you always see the latest version but can access the document history.
Improved tendering
Efficient procurement saves both time and money. In Apricon, you can create a package of the documents required in a contract very easily. Requests are made via email.
The recipient retrieves documents via a link in their browser. This makes it easy to invite a wide range of tenders from different vendors and get the most favourable quote.
Apricon – A cloud-based project network for Construction projects.
Cloud service
Web-based document management ensures all documents are readily available to project members. What's more, you get effective search and versioning into the bargain, something a regular folder structure in Windows does not offer. You do not need to install any software, all you need is access to a browser
Save time
A project network means you don't have to distribute files to project members anymore. Apricon is also fast. Our efficient Save function handles many files simultaneously and can retrieve metadata from your own document lists. Which means an end to monotonous and time-consuming processes.
Quality assurance
By creating a common structure and supporting processes such as review and case management, you minimise uncertainty concerning drawings and the risk of costly mistakes. At the same time, you gain a clear overview and facilitate cooperation.
Communicate
With Apricon, the project gains a natural focal point with several features that promote transparency and dialogue. For example: A common contact list and mail groups, daily or weekly reports, Dialogue – for informal information and photos, Publish packages for distribution of files, Case management – for documented communication on important issues.
Safety
Our servers are located in one of the leading suppliers of server management with a guaranteed uptime of 99.8% per quarter. All communication with the server is via a dedicated firewall and is encrypted. Backup is done on a daily basis. Each user has a personal login and all activities are logged. We can also offer more stringent security if necessary.
Professional delivery
Professional transfer between project phases and stakeholders creates added value. Deliver a living archive online or an archive disk with your structure. We can also customise content and functionality as needed.
Practical use
We are no hard headed salesmen. It is thanks to customer satisfaction and successful projects that Apricon is alive and well. Please take a look at what our users are saying and the reference projects and you will get a good picture of how Apricon works "in reality".
"Very structured and easy to work in. It has a good tutorial and the phone support works very well. I feel the whole team behind Apricon have put the focus on ease of use and development. "
Erik Oldgren
"The save feature in Apricon is so much better than in other project networks. It saves a lot of time. The structured and logical approach also minimises the risk of errors."
Sara Norberg
"I like the fact that the Apricon environment is controlled, which prevents the kind of chaos that often occurs otherwise. To include descriptions and status for documents makes searching a simple and easy task."
Björn Alsmark
Together we become stronger and can provide you with better service as a customer and user. Therefore, we now form a joint organization with our Norwegian colleagues in Symetri Collaboration AS. Apricon AB also changes names to Symetri Collaboration AB. With the ...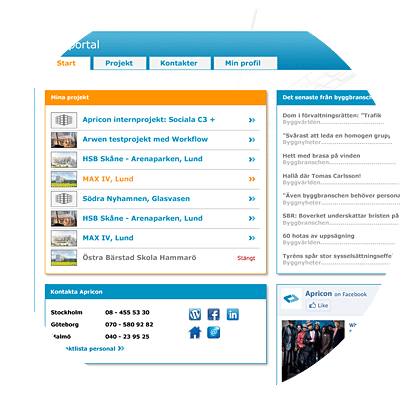 Simplify project work

Apricon makes it easy to communicate and share all documents in your project. Your project members will have the confidence of knowing they always have the most recent version of the documents and a common place to save them. This provides quality assurance and proper control with rights management, version control and logs for all files. By controlling the file structure in the project you facilitate finding and saving documents.
A project network saves time and reduces
the number of errors
The most important success factor for project work is always having the very latest information available and that communication works well.
Our clients choose Apricon because it is easy to use and can manage large numbers of documents securely and efficiently. The Basic functions are simply that bit smarter, while you can always add more advanced functionality at any time in the project.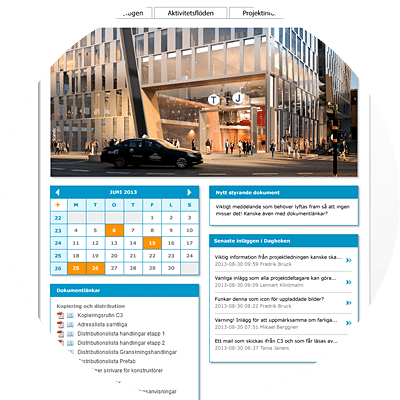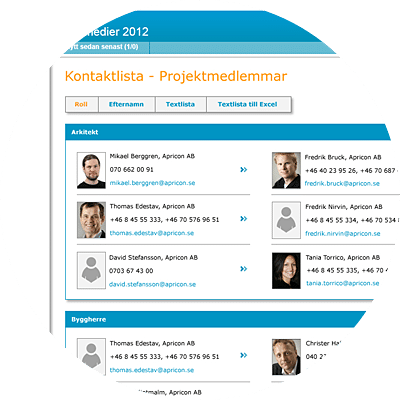 Role-based rights minimise administration

Users are assigned roles that control what information is displayed, and where they can save their files in Apricon. In effect, every discipline is allocated a role which makes for very easy management and communication.
When a person is invited to join the project network all you need is their email address. When they login for the first time they register their own data.
Smart search utility makes finding the right information very easy
When you save files in Apricon you create metadata for each document. This allows you to search for properties such as category, discipline, document type, status, etc. These properties can also be used to create versions of our dynamic document tree where each level in the structure is clickable and shows all the underlying documents, something that can significantly streamline searches.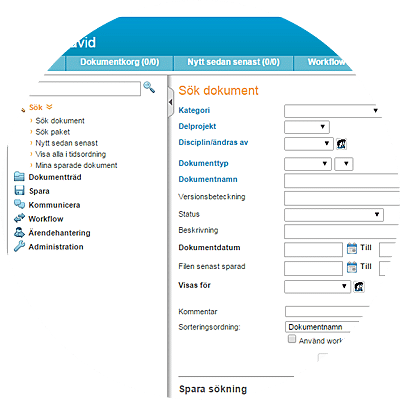 Support for processes such as review and RFI
Apricon gives you the ability to control and document important processes. For example, you can assure the quality of work by piloting documents through a review process or direct a case to a specific person or group. This means you can manage confidential information and create transparency in the project. In addition to versioning and logs for each document, you also get an overview of how work is progressing.
Sign up for a free trial
Why not sign up for a free one-month trial of Apricon? If, at the end of the trial, you decide to continue, we will offer a further discount on a pilot project. Simply email us with the name of the project and your contact details and we will create your demo project and send you an invitation.
Ready to build?
Unclear communication in the review process and uncertainty surrounding drawings can have costly consequences. With our Workflow option, you can assure the quality of the process and have clear overview of progress.
Together, we develop a flow in Workflow that corresponds to your working process. The documents are then available to the people who work with them. The management process is very simple with a clear division between. This is a great support tool throughout the process and ensures a consistent approach.
Adding a  watermark shortens the process and eliminates tedious work by giving drawings their final form directly. Apricon inserts a watermark that clearly shows the status of the document when it is downloaded or printed prior to approval. And once approved, you can release the document straightaway.
Please contact us and we'll tell you more.
Is cooperation a sticking point?
Even when everyone is happy to cooperate, inadequate communication can cause glitches. Having a common approach and the right tools avoids this. Apricon gives your project a natural focal point to promote transparency and dialogue, as well as supporting key processes and decision-making.
Apricon offers several communication channels:
The home page that displays important information, documents and links.
Regular mail that can contain links to documents or packages.
Publishing packages to share documents with stakeholders who only need to access their part of the project.
Case management to document and create transparency around issues and decisions.
Dialogue for informal communication and image sharing.
Several features also facilitate cooperation by providing support and information on progress. For example, Workflow supports the review process by managing read and write authorisation rights to access documents . When you log on to a project, you will see how many new documents have been added since your last visit. You can also choose to receive reports via email daily or weekly.
Apricon is designed to simplify project work. For us, it goes without saying that working together in a team should be as easy as possible..
A real timesaver!
A cloud service offers many advantages. But it can also mean a extra work to save documents with metadata. Apricon enables you to fill in the metadata for multiple documents at the same time to avoid tedious, time-consuming work. What's more, you can use an existing list to import your descriptions.
When you save documents in Apricon, it shows a list of all the documents that will be uploaded directly.. You can even add descriptions and properties as a document is uploading. For instance, if you have 30 documents that all should have the same status and document date, you can select all with just alone click, and then specify the date and status once. A genuinely smart timesaver.
If you have already made a list, you can use this to import descriptions and properties. With the help of a list, you can also save documents in multiple locations at the same time, such as the various document types or categories. Sometimes, you made need to save from Apricon to a local computer or tablet. Here, our Fetch can automatically  sync with selected parts or the whole database. You simply specify what you wish to download and schedule when the download should be performed. In other words, no need to log in and download files manually.
Saving files is one of the most important features of a document management system. This is also one of our main strengths and a real timesaver for our clients.
Please contact us and we'll tell you more.
Only one tender?
Attracting advantageous tenders can be crucial for a project. However, all the paperwork and time constraints often make procurement a tricky process. With our Apricon Publish packages all it takes is an email address to invite tenders. The specifications are accessed via a link and downloaded using a browser.
With Publish packages you won't have to worry about any email limitations when it comes to file sizes. A restriction that often entails a need to compress files or send multiple emails.
Packages with tender documents are locked to a specific version, but you can also create a package that is automatically updated with the latest version. This allows you to work with Publish packages for e.g. construction packages and tenant customisations. The recipient does not need to search for relevant information, another great timesaver.
Registration is required to access documents. This also creates a visitor log that gives you an overview of who has downloaded the information.
What was decided?
Ambiguity in questions and statements in packed mailboxes creates irritation and additional costs. With RFI in Apricon, we raise issues from personal email boxes and create a good overview of all the issues in the project.
Making cases available to the project team creates transparency that fosters cooperation. Several parties can contribute to a good solution and a quick decision. All cases are documented, a must for effective meetings.
Questions are never "lost" and as a query will not be locked to one person it creates continuity. A case is directed to one or more persons "for action" or "FYI" who these will be notified by email every time the issue is updated.
Case management in Apricon is very flexible and can be adapted to many different case types.
BIM too big?
BIM files are often too large to send by email. In addition, as they are updated on an ongoing basis, communication is crucial. With Apricon, you avoid restrictions on file size and can easily notify project members when new versions are uploaded.
For you to be able to work effectively in a BIM model, you must have it in your local network. For convenience, you can use our optional Fetch to automatically sync with the latest version in Apricon, You simply schedule when to sync the files and what should be included. This ensures you start work every day with the latest version of the files.
BIM is a fantastic tool. Having said that, a BIM model will not entirely replace traditional documents used in a construction project. Here Apricon gives you efficient management of models and document management for other files with version control, plus support for key processes.
Getting better all the time
We help construction projects to communicate and share documents simply and efficiently. The experience we have gained from the construction industry has enabled us to develop many smart features that simplify project work. However, our best ambassadors are the users who work with complex projects. It is our strength. Get in touch and do your own evaluation.
Contact us
Stockholm + 46 (0)8 455 53 30
Malmö + 46 (0)40 23 95 25